Basement Lowering/Underpinning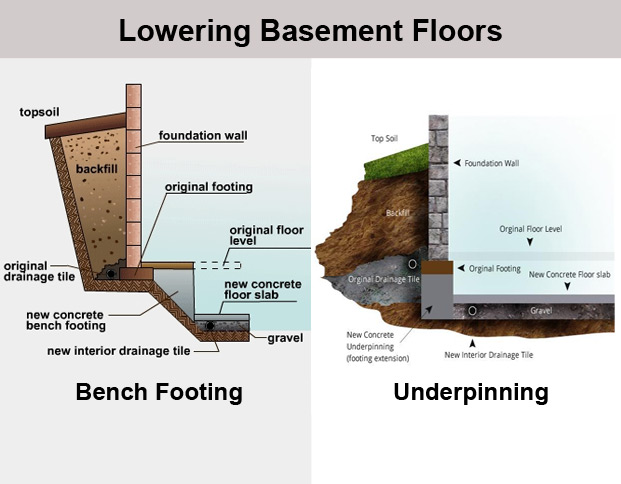 We are 100% certified in structural repairs. We have the knowledge and ability to convert a crawl space into a basement. Every homeowner always needs extra living/storage space! We can actually take a 3-4 ft crawl space and turn it into a 7-8 ft high basement! In doing a basement conversion we have to take many precautionary measures, including:
Observe current conditions of foundation and footing.
We actually start our digging process about a foot or so away from the perimeter (this step stops the current foundation from collapsing).
When digging is done we install new perimeter footing in front of the 1 ft wide dirt wall we left.
We then rebuild a new foundation wall in front of the dirt wall we left all the way up to the bottom of the old existing wall.
Next, we lay a coat of concrete over top of the dirt we left which connects the top of our new wall to the bottom of the existing wall.
Last, we lay the bottom new concrete floor slab and you have a new basement!
For smaller areas where you don't want to lose usable space an additional process would be to underpin your current foundation.
ALL WORK DONE IN-HOUSE, LICENSED & FULLY INSURED
All Basements Love Us technicians are in-house. Plus, we are licensed, certified, and fully insured in PA, NJ, & DE to perform structural and foundation evaluations and repairs. This means that when you call us to inspect your home, you are calling the best experts in the region.