Basement Waterproofing in Delaware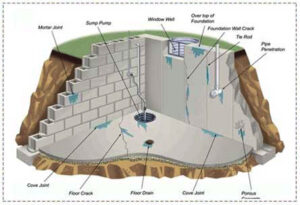 How to Protect Your Home from Water Damage with Basement Waterproofing, Sump Pump, and French Drain Installation. If you own a home in Delaware, chances are you've experienced the devastating effects of water damage. Whether it's from heavy rains, floods, or snowmelt, water can cause extensive damage to your property if you don't take the necessary precautions. Thankfully, there are several steps you can take to protect your home from water damage including basement waterproofing and sump pump installation. In this blog post, we will discuss why these services are essential for homeowners in Delaware and how Basements Love Us can help. We offer a LIFETIME TRANSFERABLE WARRANTY on all our waterproofing work.
Basement Waterproofing
Basement Waterproofing Services in Delaware – Basements are particularly susceptible to water damage because they are located below ground level and often have porous walls or floors that allow moisture in. To prevent this type of damage, it's important to invest in professional basement waterproofing services. There are several methods that can be used depending on the specific needs of your home such as installing a French drain system or using waterproof sealants. A qualified professional like those at Basements Love Us will be able to assess your home and recommend the best solution for keeping it safe from water damage.
French Drain & Sump Pump Installation
In addition to basement waterproofing services, investing in sump pumps is another great way to protect your home from water damage. Sump pumps work by pumping out any excess water that accumulates around the foundation of your home before it has a chance to seep into the walls or floorboards. The two most popular methods are French Drains and Sump Pumps. French drains are underground systems that collect water from around the foundation of your house and divert it away from your home. This is especially important for homes located in areas prone to flooding or heavy rainstorms. At Basements Love Us, we specialize in sump pump installation and use only the highest quality materials so you can rest assured that your investment will last for years to come.
Free Estimates for Homeowners
When it comes to protecting your home from water damage, investing in basement waterproofing and sump pump installation is an absolute must for homeowners living in Delaware. Fortunately, Basements Love Us has got you covered! We offer a wide range of services including French drains, sealing solutions, and more—all performed with top-of-the-line materials so you know that your investment will last for years to come. Don't wait until it's too late; contact us today for all of your basement waterproofing needs!