Basement Waterproofing in Pennsylvania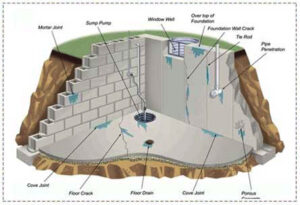 Don't Let Your Basement or Crawl Space Be the Death of You – Waterproof It! If you own a home in Pennsylvania and have been worried about water damage to your basement, crawl space, or sump pump, then keep reading. There are ways to waterproof your basement or crawl space and protect your home from potential water damage, and we'll be discussing them here. We'll also be talking about why it's important to use the best materials when waterproofing, and how our company—Basements Love Us—can help keep your basement dry and safe.
The Benefits of Professional Basement Waterproofing in Pennsylvania
Many homeowners in Pennsylvania face the problem of a leaking basement. In some cases, the issue is minor, but if left unchecked it can lead to bigger problems like mold growth, structural damage, and high energy costs. This is why it's important to invest in professional waterproofing services from an experienced contractor who can offer both repairs and preventive maintenance. Let's look at some of the benefits of investing in basement waterproofing services from a reputable company.
Sump Pump Installation and French Drains for Crawl Space + Basement Waterproofing
A sump pump is used to remove water from your basement, while a French drain is a trench filled with gravel that is used to divert water away from your home's foundation. Both are essential components of any effective basement waterproofing system. A professional contractor will be able to install both systems correctly so that your home remains dry and protected all year round.
High-Quality Materials for Lasting Results
It's no secret that high-quality materials are essential for lasting results when it comes to basement waterproofing services. Reputable contractors use only the best materials available on the market today so that you can trust their workmanship and rest assured that your home will stay leak-free well into the future. With top-notch materials such as interior drain tiles, drainage membranes, sump pumps, and more, you won't have to worry about costly repairs or maintenance down the line.
Expertise That Comes From Experience
When it comes to choosing a basement waterproofing company in Pennsylvania, experience matters just as much as quality materials do. The team at Basements Love Us has decades of combined experience working on homes throughout the state of Pennsylvania–so you can trust that they have seen every type of waterproofing job imaginable! Our team members are knowledgeable about local building codes and regulations so they can ensure your project meets all requirements before starting work on-site. Plus our technicians are certified by industry-leading manufacturers like Owens Corning™ and Miracle Sealants® – so you know you're getting top-notch services when you choose us!
Free Estimates for Homeowners
Basement waterproofing is an important investment for any homeowner in Pennsylvania–and one that shouldn't be taken lightly! With expert service providers like Basements Love Us on our side we can guarantee lasting protection against water damage and other issues associated with wet basements. We take pride in using only the highest quality materials available on the market today coupled with years of expertise – so reach out today and let us show you why we are trusted by hundreds of satisfied customers throughout PA! Contact us now for a free estimate or consultation regarding your next basement waterproofing project!
---
We offer Crawl Space & Basement Waterproofing in Pennsylvania in these areas:
Philadelphia County
Northampton County
Lehigh County / Lehigh Valley
Berks County