Basement Waterproofing in New Jersey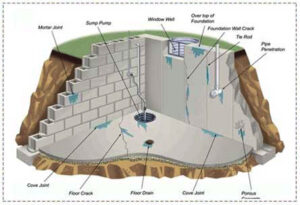 Water is one of the most destructive elements to your home. Whether you have a basement, crawl space, or sump pump, it is important to properly waterproof your basement in order to protect your home from water damage. Let's discuss some of the best waterproofing solutions available in New Jersey and why Basements Love Us is the best choice for all your waterproofing needs. If your basement or crawl spaces leaks during and after storms, you must address this with an effective waterproofing system to avoid future leaks and further damage. We offer a LIFETIME TRANSFERABLE WARRANTY on all our waterproofing work.
Basement Waterproofing Solutions Available in New Jersey
When it comes to waterproofing your basement in New Jersey, there are several solutions available. The two most popular methods are French Drains and Sump Pumps. French drains are underground systems that collect water from around the foundation of your house and divert it away from your home. A sump pump is an electric-powered pump that collects water from around the foundation of your house and pumps it out via a discharge pipe. Both of these systems can be installed by a professional contractor such as Basements Love Us in order to ensure proper installation and to guarantee long-term success.
A Basements Love Us waterproofing system will allow water to flow out of your basement, preventing the buildup of stagnant water and eliminating the risk of mold. Our smart systems manage water flow at a steady, even pace, and prevent moisture from damaging your home. We'll keep your basement dry and free of mold and mildew.
Why Basements Love Us is the Best Choice for Your Waterproofing Needs
Basements Love Us has been helping homeowners keep their basements dry since 2008. We use only the highest quality materials and our experienced team of professionals will ensure that everything is installed correctly so that you don't have any problems down the line. Our team has extensive experience with both French Drains and Sump Pumps, so you can rest assured that we will provide you with an effective solution that meets all of your needs. We also offer free estimates so you can get an idea of what it might cost before making any decisions.
Free Estimates for Homeowners
Water damage can be one of the most expensive repairs for homeowners if not taken care of properly. It's important to make sure you choose a reputable company like Basements Love Us who can provide you with effective basement waterproofing solutions customized to fit any budget or need. With years of experience and top-notch customer service, Basements Love Us is committed to providing every customer with superior services at competitive prices! Contact us today for more information on how we can help keep your basement dry!
---
We offer Waterproofing Services in New Jersey in these Counties
Atlantic County
Burlington County
Camden County
Cape May County
Cumberland County
Essex County
Gloucester County
Hudson County
Hunterdon County
Mercer County
Middlesex County
Warren County
Monmouth County
Morris County
Ocean County
Salem County
Somerset County
Union County